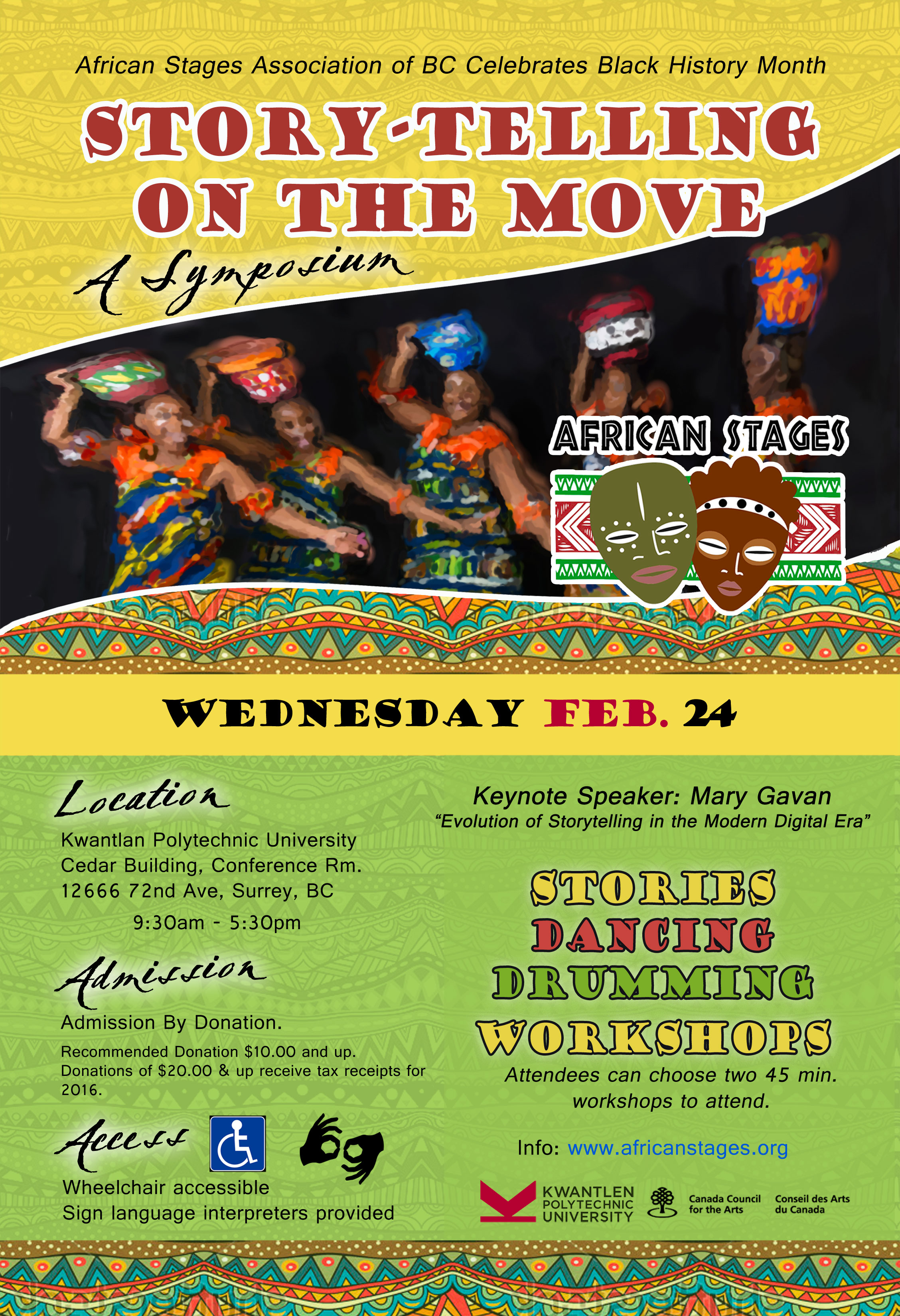 Story-Telling on the Move Symposium 2016
Story-Telling on the Move Symposium 2016 was a project sponsored by Canada Council for the Arts and Kwantlen Polytechnic University – Surrey Branch for celebration of Black History Month 2016.
The symposium turned to be a very successful event that had more than 100 participants from KPU students and Vancouver Society of Storytellers artists and storytellers and community members.
The keynote speaker was Mary Gavan, writer, storyteller, and a respected active  member of Storytellers of Canada – Conteurs du Canada. Her speech focus was on "Evolution of Storytelling in Digital Era".
The panel of discussants were:
Dr. Charles Quist-Adade (moderator),
Dr. R. B. Herath (founder of Global Peace Alliance) discussion was about Storytelling as A Tool for Global Peace,
Alban Goulden (writer and activist for mental health) spoke about Storytelling, Modern Media and People with Disability,
Jessica Barrett (award winning writer and journalist) argued on Reviving the Art of Storytelling in a Modern Garb,
Amy Wuttunee Eustergerling (Cree Nation storyteller and musician) mentioned about The Pros. and Cons. of Telling Stories in Modern Life.  Each of the panel members talked about their own experiences and concerns about mental health, global peace, First Nations of Canada, and journalism and social media with an eye on storytelling and storytelling on the move (focused on digital version of storytelling).
There were four workshops, two concurrent at the time, led by three storytellers and a dancer and musician, all from Metro Vancouver:
Naomi Steinberg (workshop: Interactive Storytelling and the New Social Media), Kira Van Deusen (workshop: Story-gathering Along the Ages and its Baggage), Comfort Ero (workshop: Different Benefits of Storytelling), and Veronique Mulungie (workshop: Storytelling and African Musical Instruments).
One of the best part of the symposium was Yoro Noukoussi and  his young sons' drumming session. They added synergy to the symposium and brought a fabulous African rhythm and life to the event.
By the generous sponsorship of Canada Council for the Arts, we were able to employ two sign language interpreters from Preferred Interpreters of Canada and introduced our first inclusive project to deaf society.
The program was very interactive and energetic full of movement, dance, and music, alongside   discussions and workshops that amazed audiences and participants to know how much storytelling is important in all aspects of human society and growth of the community in compassion, understanding, and collaboration with each other.  
Sponsored by:
Organized by: African Stages Association of BC
In Collaboration with:
Kwantlen Public Interest Research Group and Students of Colour Collective